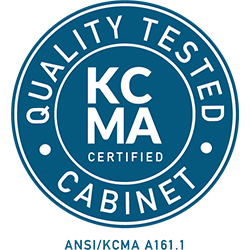 ANSI/KCMA Certified
Bass Cabinets have been extensively tested according to the rigorous standards set forth & governed by by the American National Standards Institute & the Kitchen Cabinet Manufacturers Association
1-Year Limited Warranty
1. General Terms and Conditions
Cabinets & Related Products, Inc. guarantees its products against yellowing, delaminating or any apparent or hidden defect that might affect their quality of cause premature deterioration. The following conditions apply:
2. Duration
This guarantee is valid for a period of 1 year following the date of substantial completion.
3. Exclusions
This guarantee does not apply:
3.1 - When damages are caused:
• By misuse or abuse of the product by the buyer
• By improper installation or exposure to the elements
• By any modification, transformation, alteration, or correction of the product without a written authorization from Bass Cabinet Mfg., Inc.
• By exposure to a temperature over (165ºF)
3.2 - To any deterioration of the product resulting from normal wear.
3.3 - To any indirect damage and inconvenience, or any incident relating to the costs of installation and transportation, or any other costs relative to the application of this guarantee.
4. Execution of Guarantee
For the duration of this guarantee, in order to exercise his rights, the buyer shall notify Cabinets & Related Products, Inc. without delay of any defect in the product and shall provide proof of purchase or the back of his/her present certificate properly completed. The buyer shall not make any repairs before Cabinets & Related Products, Inc. has had an opportunity to examine the product.